2023 Combined Veterans Luncheon & Expo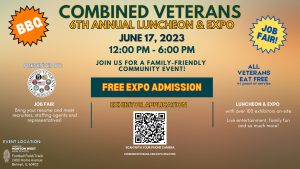 Saturday June 17th, 2023
Learn more here: https://combinedveterans.org/combined-veterans-luncheon-expo/
It is 2023 and year SIX is upon us!
In addition to being a great networking event, the Combined Veterans Luncheon & Expo is a community resource fair where residents from all over can come to connect with local services. The admission to the Expo is free. Lunch is free to veterans with proof of service. For non-veterans it is $15. Children 12 and under eat for only $5. All proceeds go to veteran programs.
This is the second year in our NEW LOCATION! Thanks to the support of the Berwyn Park District since 2018, we have been able to grow this event to the point where it outgrew Proksa Park in Berwyn!
Our location is Morton West High School football field. Specifically, the track surrounding the field. The school is located at 2400 Home Ave in Berwyn, IL. The entrance to the parking lot is just north of 24th street and Home Ave.
In 2022, we hosted 85 exhibitors, all bringing some service for either veterans, the community in general, or both. This year we expect to reach the max of 200 exhibitors.
So far, this year's lineup is: UPDATED 6/4/23
Easterseals Early Learning Services
Pets for Vets-Chicagoland
Catholic Charities Veterans Employment Program
Wounded Warrior Project
Hinsdale Humane Society
Hines VA Hospital (Health Promotion Disease Prevention and LGBTQ+ Services)
AgeGuide Northeastern Illinois
Help Heal Veterans
Oak Street Health
Road Home Program – Rush University Medical Center
Berwyn Public Library
Humana
PACE
Inner Voice
FOREST PARK VET CENTER
Chicago Police Department
Merging Vets and Players Chicago
Darwill
Nicor Gas Energy Efficiency Program
Pav YMCA
Veterans Smile Program
Illinois Joining Forces
Solutions for Care
VOA Illinois
Edward Hines Jr VA Hospital-Outreach
Midwest Shelter for Homeless Veterans
Veterans Assistance Commission of Cook County
FOB: Fun Operating Base
Jesse Brown Department of Veterans Affairs
Home Instead
Cook County Clerk
Jencare Senior Medical Center
Comfort Keepers In-Home Care
Office of Illinois State Treasurer Michael Frerichs
Veterans Own Woodworks
Family Medicare Solutions
CATHOLIC FINANCIAL LIFE
ProjectDiehard
U.S. Senator Duckworth of Illinois
Connie Health
Northern Illinois Justice for Our Neighbors
Honor Flight Chicago
Illinois Department of Veterans Affairs'
U.S. Department of Veterans Affairs Chicago Regional Benefits Office
PTSD Woodwork & Crafts
Hines VA Hospital
National Headache Foundation
Veterans Outreach of Illinois
Cook County Sheriff's Office
V.E.T. Service Dogs NFP
Cigna
Beyond Hunger
Chicagoland Habitat for Humanity
Hines Veterans Hospital
IL Army National Guard
North Berwyn Park District
Morton College
College HUNKS Hauling Junk and Moving of Brookfield
Team Red, White & Blue (Team RWB)
Cicero Police Department
Bay Equity Home Loans
VOA Illinois Boxes of Hope Program
Berwyn Township Public Health District
BLUE CROSS AND BLUE SHIELD OF ILLINOIS
Hinsdale Humane Society
Hines VA Whole Health
Veteran Art Tribe
Friendly Insurance Advisor Group
For the Love of Books, PaperPie
Century 21 SGR/Guaranteed Rate
CHICAGO VETERANS
David J. Avila State Farm Insurance Agency
State of Illinois Department of Revenue
recruiting
Commissioner Frank Aguilar
As signups roll in, this page will be updated.
We are also proud to once again have Mission BBQ as our caterer for our sixth year.
To qualify as an exhibitor is simple. Either you must have a program geared toward veterans, be an organization or company that helps the community, or be an employment agency. Our job fair addition is in its third year, and we hope to help our community find the employment they are looking for.
Fill in the form, select your sponsorship level, your type of organization, upload your logo, pay your entry fee (if any) and hit Submit.
Entries will be accepted until June 2nd or until space runs out.
If you have any questions or issues, call Greg Hopper at (773)259-8985 or email at combinedveterans@yahoo.com. Put CVB Expo booth request in the subject line for a quick response.