An idea that led to a Championship!
Every summer the Chicago Park District hosts a one day Veterans Softball Tournament inviting family, friends and fellow organizations to participate. Chicago Veterans was one of many organizations to create their own team and participated. We made it to the second round of the tournament but fell short of winning the trophy. Our record might not have been the best, but the friendships and bonds that were formed that day are… and this is where the idea came from.
A few Chicago Veteran members that participated in the Chicago Park District's tournament wanted to continue playing together as a team. They found a co-ed, Thursday night softball league in Chicago and invited fellow veterans and friends to join. Their first game was at Eckhart Park in Noble Square. They lost that game 33-1, and that my friends, is where the second idea came from… practice!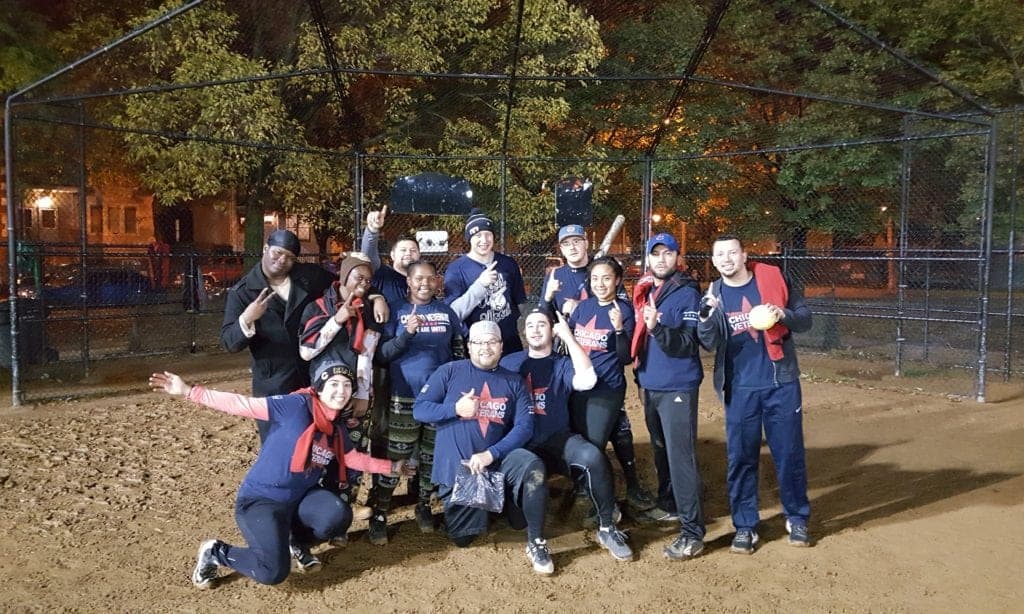 The following Saturday they all met together at Paul Revere Park in North Center for practice. The team created a group text chat room and found themselves speaking daily about softball, upcoming veteran events, and life. Every Thursday night for 8 weeks they would meet for their games and a few Saturdays in between for practice. "Playing softball kept me busy both physically and mentally, it gave me an opportunity to get out of my house instead of sitting in my room thinking of events that I can't change," said Juan Cornejo, an USMC Combat Veteran. After 6 weeks, Chicago Veterans made it to the play-offs. They won their first two playoff games and were on their way to the Championship game. "Being able to compete with fellow veterans encouraged me to continue playing and try my best to help the team win, it united us [veterans] to once again operate as one with a common mission, victory!" said Juan Cornejo.
The following Thursday was their Championship game at Hamlin Park in Chicago's Bucktown neighborhood. The fields were still wet from the morning's rain but the game was still on. Both teams battled back and forth scoring runs in every inning. Chicago Veterans were up to bat at the top of the 7th and the final inning of the game, they were up one run with bases loaded and one out. Chicago Veterans next batter hit a ground ball to the shortstop that turned into a double play. They now had to defend their one run lead and play defense. The first batter from the opposing team made it to first base by an infield error. The second batter hit a pop fly for an out. The third batter hit a ground ball that was missed and now they have runners on first and second base. The fourth batter hit a pop fly to right field for an out but the runner advanced to third base. The next batter hit a perfect hit to third base which he picked up and threw to first base for the final out! Chicago Veterans just won their first ever 16" Co-ed Softball League Championship… [cheers]
Because of the bonds, friendships and impact softball made on these veterans, Chicago Veterans is now looking to continue participating in other recreational activities. "Anything that promotes and inspires veterans to come together and compete would be great. If I stay busy and surround myself with fellow veterans then I'm not recalling my time in Al Anbar Iraq or Sangin Afghanistan, said Juan Cornejo. Chicago Veterans is currently looking into bowling, flag football, volleyball and more activities to help bring veterans together.