Getting Out of Our Comfort Zones
As we recap on 2019 and take on our 2020 vision, we would be remiss if we did not take the time to reflect on one of our largest events, the Annual Chicago Veterans Ball. In 2019 we are proud to say we hosted our 5th and largest Ball yet with over 350 attendees and representation from each military branch. From the acrobats to the ceremonies, awards and of course the dancing, this event has come along way and we could not do it without our Veteran community and dedicated supporters.

To help us truly reflect on this celebration, and its evolution over the past 5 years, we wanted to hear from two specific civilian supporters and active attendees of the Annual Chicago Veterans Ball since the very first one — Jorje Bautista and Veronica Izquierdo.

Jorje is a long time friend of our organization's Founder, Kevin Barszcz, and after seeing his friend's dedication to the local Veteran community, Jorje wasn't going to miss seeing that vision come to life for the first Chicago Veterans Ball in 2015. Even leading up to the Ball, Kevin and the entire Chicago Veterans team were "hosting get-togethers and social gatherings… the more Kevin shared with me [Jorje] the more I got involved, he has a way of inspiring people. Getting to help my friend was an opportunity to serve a group of people I am grateful for and care about very much." Jorje dove right into helping Chicago Veterans plan and execute this first Ball, from giving the team advice to setting the tables the evening of the event. Lucky for Jorje, Veronica — a stranger at the time — was seated at his same table. Little did Jorje know this event was going to be more magical than he expected!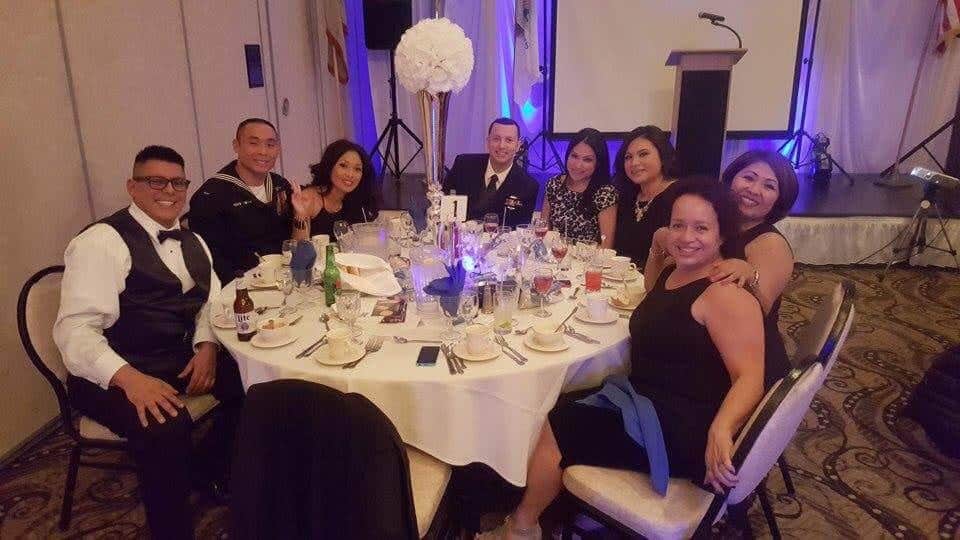 Veronica attended the first Chicago Veteran's Ball somewhat reluctantly with her close girlfriend. "I didn't really want to go out, but she bought me a ticket anyway. So I went, thinking, 'What am I doing here?' Everyone was dressed in uniform and here I was, a civilian! I have a lot of respect for the people who served for us, but I told her I didn't feel like I should be there." It was moments later that Veronica noticed Jorje, and started to feel comfortable. "I saw Jorje coming in wearing a regular Tuxedo, and my friend says at that moment I saw him my demeanor totally changed. Soon he was dancing with everybody, me, my friend — everyone!" Jorje also noticed Veronica right away and made it his goal to get her to open up and enjoy the wonderful event. "I noticed she was uncomfortable, made a joke and eventually broke the ice! At the end of the evening, Kevin was going to give me a ride home with a few others, but I wasn't leaving Veronica."
This chance meeting of two civilian supporters at the Chicago Veterans Ball turned into a relationship, which led to not only a beautiful wedding but one had in the very same venue in which they met in 2015 – at the first-ever Chicago Veterans Ball.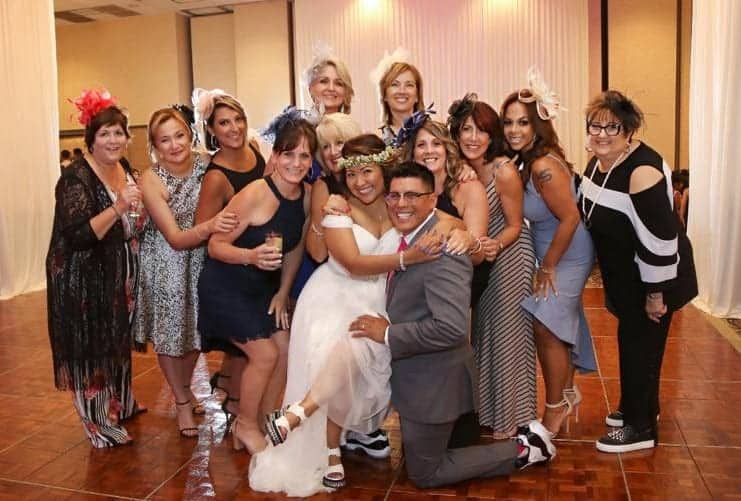 Over the last 5 years, Jorje and Veronica have attended all but one Ball (now always with a date!), as well as many other Chicago Veterans events. They have a first-hand perspective of how this event has transformed year after year. "The first Ball had maybe 125 people, and in 2019 it was about 350! Every year we see the number of people grow. We also see the increasing engagement of higher-ranking officers, and growing representation across all of the branches. Not only that, but each year the celebration gets more sophisticated, and the Veterans and supporters who attend really show up in terms of the caliber with which they carry themselves — of course while also enjoying the party!"

Jorje and Veronica have enjoyed seeing how attendees have perceived the event over time. At the first event, "these proud Veterans were trying to figure out what this dinner was about and were truly woahed in admiration of their fellow soldiers, the beautiful venue, and the celebration that was happening before them. Now most folks know what it's about. They expect and know it will be a great time from the opening ceremonies to the dancing!"

We asked the couple if they plan to attend the 2020 Chicago Veterans Ball, and unanimously they exclaimed, "Oh, we cannot miss it!" They have the night blocked in their calendar and plan to 'serve the Chicago Veterans team and their attendees anyway they can."

Given these two have been committed civilian volunteers to the Veteran community for years, we thought they may have advice for other civilians who want to get involved. Jorje recommends "finding an organization like this one that has locations and events where you can socialize with Veterans. Just because you never served like they did, doesn't mean you can't serve them now. It's your turn to take care of your brother and sisters. No matter how you get involved remember that listening is a huge part of being a civilian volunteer." Veronica had a similar opinion, suggesting civilians "consider serving with a truly open heart. You'll soon feel like you're their family. Because they have served our country, we should dedicate some of our service to them too. Always spread the word about this community when you can and be a liaison for other civilians and Veterans."

Whether you are a Veteran, a family member, or otherwise a civilian supporter we hope you will join us and these two love birds for a night of celebration and honor at our 6th Annual Chicago Veterans Ball in November. Don't want to wait to get involved? Volunteer, donate or register for our Annual Ruck March, and like Chicago Veterans on Facebook to stay up to date on other events!

Thank you to Jorje and Veronica for their dedication and service to our local veteran community!