I will walk with you as far as I can
Blog by: Michael Vision
The Chicago Veterans Ruck March is an annual 20 Mile Ruck/Walk that is hosted every Memorial Day Weekend. Each year, people from throughout the country participate in this ruck to bring awareness around veteran suicide and help reduce the stigma around mental health and PTSD. I had the privilege to interview Anthony Ward, who not only participates in the Ruck annually but was courageous enough to share his personal story of what the Ruck means to him.
Please meet Anthony Ward. Anthony is 70 years young from Berwyn, Illinois, and has been participating in the Ruck March since 2017. Anthony spent four years in the United States Navy as a Corpsman and as a civilian, he continued to serve as a VSO to help Veterans get food and any other supplies they may need.
In 2019, he had every intention of completing the 20 miles but took a fall which resulted in a broken knee cap. Anthony, who already has a prosthetic leg as well as a broken knee cap met up with his friends at the last four miles and completed the Ruck.
Anthony participates in the Ruck March to support those who are suffering from PTSD, suicide, and other mental health issues. The March helps him connect with Veterans throughout the city. Anthony thrives being one of the older Veterans to participate in the Ruck. "You look at the Ruck and you see these young guys…you aren't gonna see the older ones. I wanna break the norm and tell them I support you, I am with you, I may not be able to do twenty…but I will walk with you as far as I can."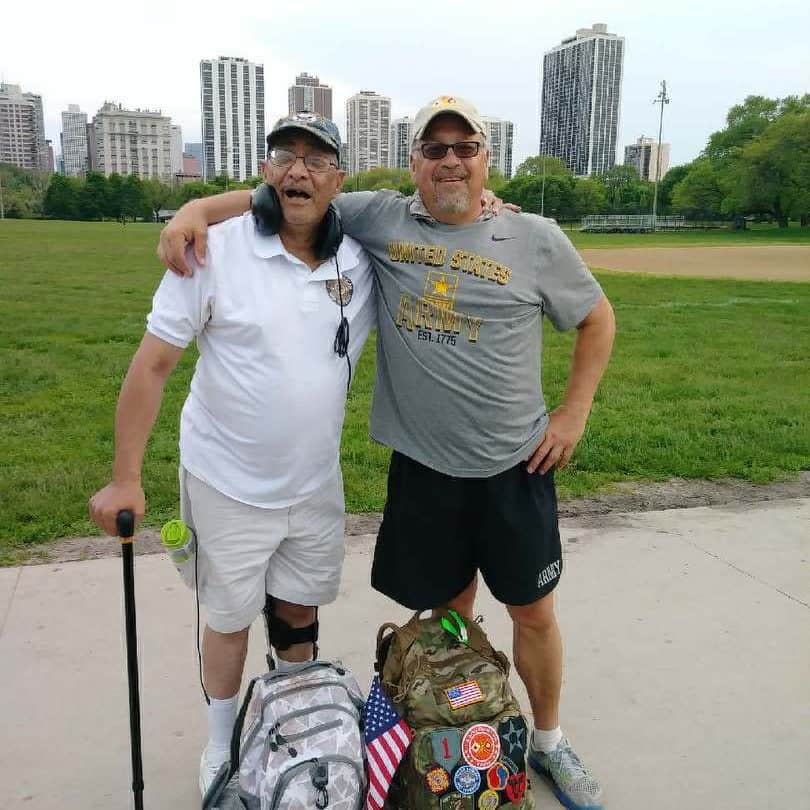 Anthony's passion for his brothers and sisters in uniform should not go unnoticed. Anthony checks on those who have served around him frequently. Every two weeks he goes to the YMCA to hand out food, "it's not steak and lobster, but it keeps the hunger away." This year Anthony's organization, Combined Veterans Of Berwyn, connected with local food pantries to help distribute over 6000lbs of food to Veterans, the VA, and Veteran shelters. "I'm not doing this to get my picture taken, I want to help."
Taken back by how much Anthony does for his fellow Veterans, I asked him what he would recommend for those who want to help, but are unsure of how to support the veteran/military community. His response, "talk to a veteran, talk to a neighbor, walk over and knock on the door. Most vets, young and old, will not admit they need help. Support them. Be there, let them know you are there. Simply put, build a relationship."
Finishing up the interview with Anthony, I simply asked if he had anything else he would like to share. "Imma get my 20 miles this year. If I don't make it, I'm gonna get dang close. If there are Vets that think they can't do it, they're too busy, etc. JOIN ME, If I can do it, dammit skippy you can do it.