More than just a Ruck March
Author: Bryan Cooley, US Navy Veteran
Inevitably every veteran faces a simple yet profound question, "what now?" When it comes time to hang up the uniform, service members are forced to engage a host of obstacles previously unencountered. For many, this transition is simply a matter of logistics-finding a new job, moving, figuring out health insurance-the list goes on. For others, taking the next step is existentially arduous. Military service can bring psychological, emotional, and spiritual burdens that remain long after departing base for the final time. Veterans rank among other groups, such as first responders and medical workers, who experience acutely stressful situations unfamiliar to the general populace. As a result, re-entering "normal" life is rife with complications. Simple tasks become overwhelming, the mundane becomes tumultuous. Thousands of veterans continue to carry the weight of their service years after leaving the military.
What I just described is probably not news to readers of this post. After all, many of you have lived this reality. Thankfully, the difficulties facing active-duty member and veterans have become more normalized than in years past. Issues such as Post Traumatic Stress Disorder (PTSD) are no longer stigmatized, and inspiring mental health professionals devote more time and energy to treating such conditions than ever before. Yet the battle is not won. If mental health is more accepted by society, it still is personally difficult to face. Yes, the veteran community has better access to care, yes, the support system is growing, but so many remain haunted by their past.
"The march, helped Tony realize that he wasn't alone and there was support from others who understood what he was going through."
Emerging psychological research may provide insight into why such struggles persist in affected groups. One contributing factor is isolation. According to Kassandra Alcaraz, a researcher with the American Cancer Society, "the magnitude of risk presented by social isolation is very similar in magnitude to that of obesity, smoking, lack of access to care, and physical inactivity." As inherently social creatures, we all need people to share in our needs and, of particular importance, our problems. Beyond simple understanding, we require people who can empathize with our unique situations.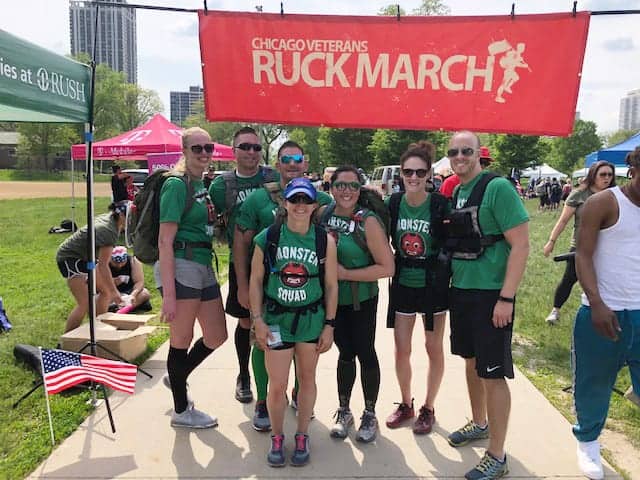 This sense of detachment and estrangement are often represented in many of those who battle PTSD. According to the American Psychiatric Association's website, individuals with this condition "may resist talking about what happened or how they feel about it." While isolation affects everyone in harmful ways, for those attempting to process past trauma, the outcome is exacerbated.
Enter the Chicago Veterans Ruck March. In addition to drawing awareness to those veterans lost due to mental health struggles, the event provides a vehicle for connection among those embroiled in their personal battles. The Ruck March is a reminder that our brother and sister veterans can overcome debilitating emotional injury and the sense of isolation which often accompanies it. Thousands have marched to engage this topic, standing with veterans, family members, community leaders, and others in a united front against mental health issues and suicide. As part of the lead-up to this year's event, Chicago Veterans spoke with prior participants to discuss the impact the march has had on them and their loved ones. Stephanie, a multi-year marcher, shared the story of her and her husband, Tony, with me recently.
A prior infantry officer, Tony served in the U.S. Army and underwent multiple deployments to Iraq in support of Operation Iraqi Freedom. His battalion endured heavy resistance from adversary forces during his first deployment. As a result, Tony's vehicle was hit 18 times by various explosive and incendiary devices. This combat theater exacted a tragic toll on Tony's battalion, as 20 heroes were lost in the line of duty, six of whom came from Tony's company. Like so many coming home from that conflict, Tony's unit returned bearing fallen comrades, soldiers, and friends.
After serving on active duty for five years, Tony leveraged his unique expertise to pursue a career in civilian defense contracting. His post-military life often bore him back overseas to such locations as Kuwait and Afghanistan. Once again, Tony was placed in precarious situations that could be life threatening. Thankfully, he navigated these tours safely and returned home for the final time in 2015.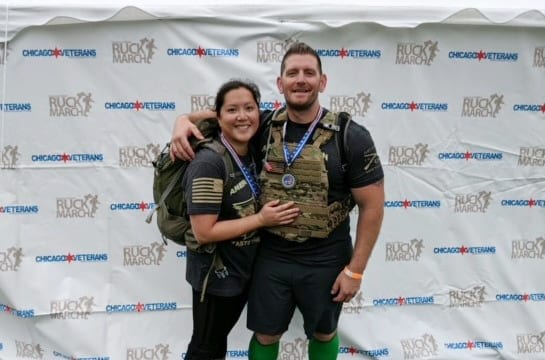 While Tony was serving his country as an officer and contractor, his future wife, Stephanie, was serving her community as a pediatric emergency room doctor. The two met in Michigan through an adult sports league, which eventually blossomed into companionship. During this time, Tony began experiencing PTSD because of his combat experiences. While driving he would have difficulty going under bridges and would often swerve to avoid objects laying on the side of the road. This time was particularly tasking for Stephanie and Tony, as initially he had difficulty expressing what he was feeling, while Stephanie struggled to understand his plight.
A co-worker of Tony's first turned him on to the Chicago Veterans Ruck March. He invited his friend and others to participate in 2016. When asked by her husband to join him on the trip, Stephanie was at first hesitant as she had never done a Ruck March before. However, her desire to support her husband quickly overcame any misgivings, and she joined Tony, hopped in a car, and drove the roughly 300 miles from Detroit to Chicago. This initial trip sparked future participation, as Tony and his friends participated in the march every year from 2016 through 2019. In their final march, even Tony's father came out to support his son.
Although the couple considered the march a worthwhile event in an ideological sense, one year made it resonate in a very personal manner. In 2018, Chicago Veterans featured heroes who had lost their battle with PTSD, and Tony recognized one of the soldiers. Unaware that this individual had taken his own life, the moment was a profound one for Tony, and it validated the worthiness of tackling veteran mental health issues as a community, a family.
That is the essence of what this march is all about, standing in solidarity with our brother and sister veterans. Medical professionals, spiritual advisors, and social workers provide invaluable support to prior service members who are suffering, yet the communal component is critical to helping those who need it. Everyone's situation may be a little different, but the idea of meeting and marching with others with similar experiences empowers individuals to carry on, to keep moving forward. As Stephanie so succinctly put it, the march, "helped Tony realize that he wasn't alone and there was support from others who understood what he was going through." Here is to hoping that it will do the same for many more.