Following Your Dreams After War
Veteran Spotlight | Alberto Boleres
About the Veteran
Alberto Boleres has been an active member of our Chicago Veteran's community, as well as the broader business community for many years. Alberto served in the Army from 2000-2008 first in the National Guard and then in the Reserves. He deployed to Iraq from 2006-2007 as an 88M Motor Transport Operator, where he received a Purple Heart.
The Inception of his Entrepreneurial Dream
It was while in Iraq, that Alberto was first inspired to start a business upon his return. He was standing in line with his buddies at Green Bean Coffee, a coffee shop on base. The shop was so popular that they were waiting in line outside in over 100℉ heat, and that's when it hit him. He realized, "Man, people do a lot for coffee! When I get back I'm going into the coffee business!" Once he got home, he went to visit his family in Guatemala where he began his research in the coffee industry. After a lot of learning and hard work, he bought a roaster in 2014 and branded his own wholesale business, 606 Coffee Roasters, after the first 3 digits of Chicago area zip codes.
Coming Home to Bring This Dream to Life
The journey to establishing 606 Coffee Roasters was no easy feat. He joined two organizations that really helped him establish a purpose and goals for himself and his business, the YMCA Urban Warriors Program and Chicago Veterans.
Alberto was one of the first veteran volunteers with the Urban Warriors Program, which pairs the youth of Chicago who have experienced violence with veterans who had experienced trauma during service. The veterans act as a positive role model for the youth. Alberto describes this experience as "One of the first times I realized I might have PTSD. Trauma in war is the same trauma in the streets." This volunteer work taught Alberto the power of giving back, and how it can invigorate your community and yourself to be the best you can be.
Alberto's experience with the Chicago Veterans community was also pivotal during his transition to civilian life, and making his dream a reality.
"If it wasn't for Chicago Veterans, I would not be where I am today. Veterans I knew when I got home were my friends, but they weren't pushing me the way this organization does. Chicago Veterans were, and still are, leading big and positive initiatives in the community that help businesses and other nonprofits. This community has pushed me to do better. They made me believe in myself more than I already did."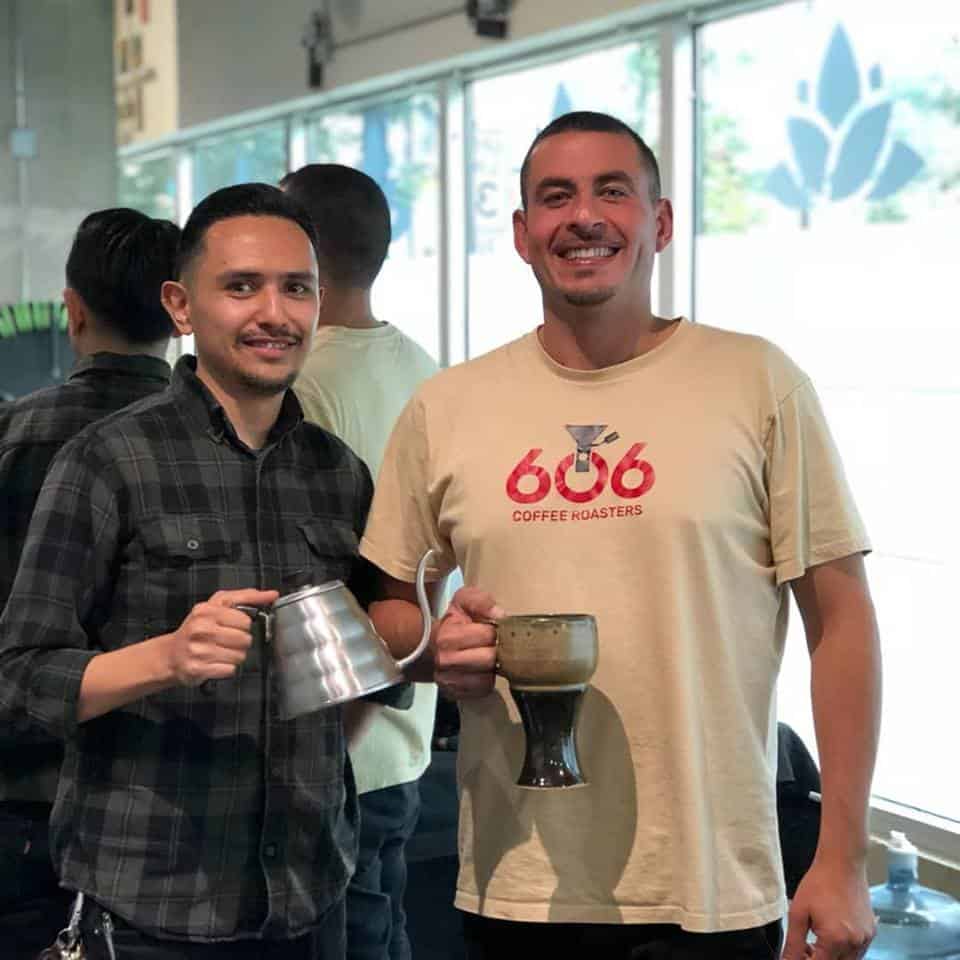 Where is 606 Coffee Now?
606 Coffee has been off the ground running as a wholesale and online business in the high quality, delectable coffee niche. Alberto received an extra boost after receiving the Brewing the American Dream award and microloan from Samuel Adams. Since then, he's worked on establishing partners in the beer, wine, hospitality, and healthcare industries, even doing a private label blend with Rush Hospital!
Alberto took his lessons of giving back from Urban Warriors and Chicago Veterans, and is taking action himself with 606. The company is selling a special 'Chicago Veterans Blend,' from which a percentage of every bag sold will go back to supporting the initiatives of the organization. It's Alberto's way of saying, "I'm a veteran, and I can help. A lot of veterans drink coffee, and will enjoy the chance to give back."
Advice for Fellow Veterans
Before our conversation ended, Alberto wanted to make sure we passed along some advice from him to his fellow veterans.
"I want to tell my fellow veterans there are no excuses. I know many struggle with PTSD, and some say I do, but I still chase my dreams. You shouldn't let your past or your injuries ruin your dreams. Limit your excuses, and push forward. Life didn't stop because of war. If for nothing else, you should do it for the guys who didn't make it home."
Lastly, Alberto encourages veterans to give back. "It's not always about receiving, remember to give back. Whether that's in a larger community, or just helping out an individual veteran."
Thank you, Alberto, for your service, and for thinking of Chicago Veterans for your new blend! We are proud, honored and humbled to have you in our community.