Veteran Spotlight: Welcome to Our New Commander of Illinois Veterans of Foreign Wars
Meet your New Commander
Chicago Veterans is honored to welcome and feature the new Commander of Illinois Veterans of Foreign Wars, Laurie Emmer! We had a chance to sit down with Laurie where we learned about her career, where she wants to lead the VFW, and how organizations like ours can help.
A military Brat herself, Commander Emmer was born in Puerto Rico where her father was stationed with the Navy. Emmer's own military career spans 24 years serving in the 82nd Airborne Division of the Army. She was stationed at Fort Bragg and Fort Benning and deployed to Afghanistan. Throughout her service, Laurie became quite decorated. The achievement that meant the most to her was the Army Achievement Medal which she received for stabilizing a soldier during a rescue mission.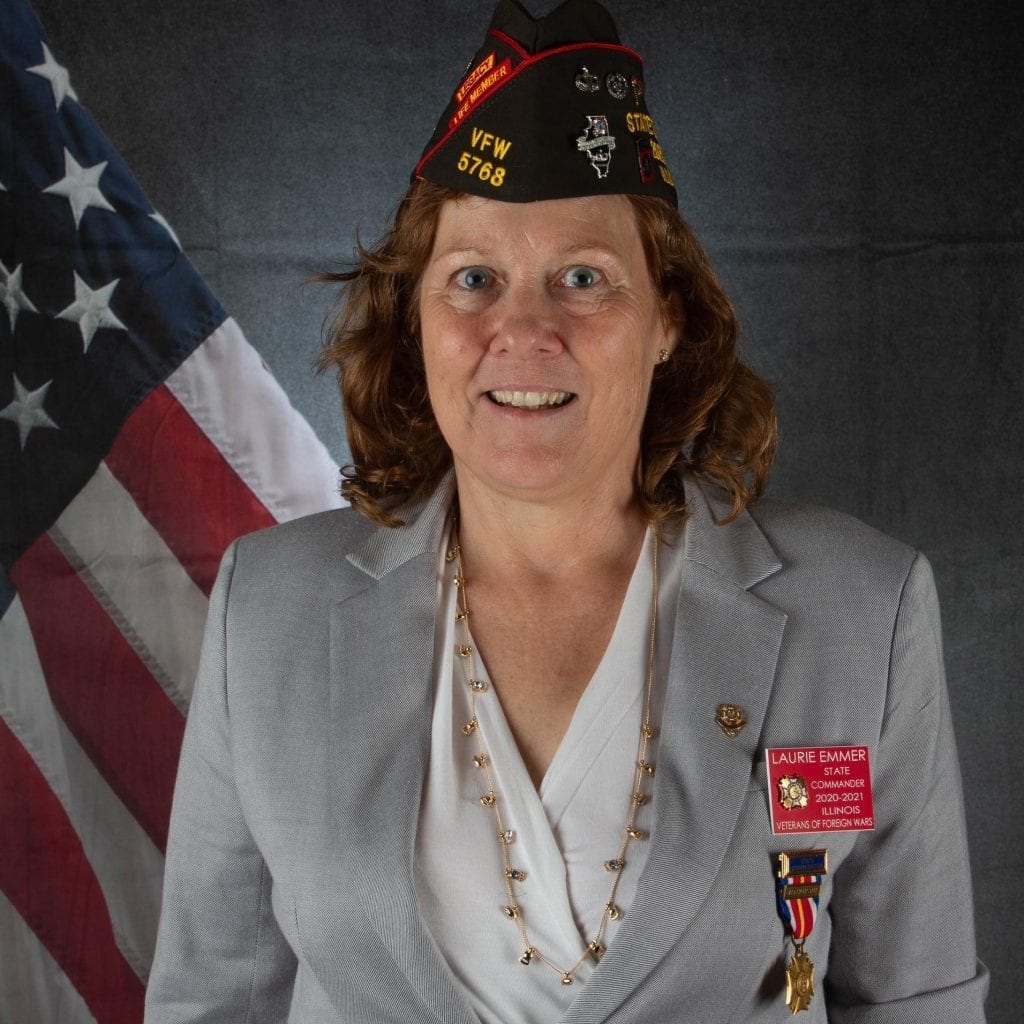 Her Story at the VFW
Emmer started her involvement in the organization after returning from deployment. That involvement only increased when she and her husband moved to Illinois. The couple was invited to a meeting by a veteran looking for 'new blood' at Sycamore Post. Emmer describes the experience.. "I honestly felt a bit lost at first. After getting out of the service, I felt like I needed to do something for Veterans lost in transition — and I eventually found it here." Within a few years, Emmer made her way through leadership positions at the Sycamore Post, becoming the first female Commander in 2009. In this role, Emmer noticed that she "didn't see a lot of involvement from our female veterans who served in Iraq. I [she] thought that if I can be involved, I can be an example and prove that there are no excuses. I knew I had to keep moving up and striving for more to be a part of that change. Though I had always said I would not go to the State level, seeing women veterans and veterans of color who served in Afghanistan and Iraq say, 'there is no place for me here' I knew that was my next step." Soon after Emmer, ran for VFW Department Surgeon, followed by servicing as Junior and Senior Vice and now Commander. As she has progressed, Emmer has seen the change she longed for over the last couple years with more and more younger female and veterans of color getting involved. She notes that "our older veterans are great mentors, they took us in and brought us to where we are. However, to keep moving forward we need to embrace change."
Taking the Organization to the Next Level
While Covid-19 slowed the start of Commander Emmer's initiatives, she plans to measure the organization's success by seeing continued growth year over year in Illinois, not just in numbers but in involvement. One approach they are taking is to communicate a message of diversity in VFW events – embracing both social and community service focused activities. Emmer challenges all posts to do a community service event this year. If at least 50% follow through she considers that a win!
Another initiative important to Emmer is Mental Wellness. "If you're having difficulty our veteran organizations have abundant resources – VFW and others! For example, we just helped someone who was facing foreclosure – helping them through the financial and mental barriers." As a push for this initiative, the VFW recently announced the Call to Action 100 – asking for the veteran community to support each other during these unprecedented times. Check out how you can help.
Emmer hopes to deepen collaboration efforts with local veteran organizations like Chicago Veterans on clothing drives for homeless veterans, and taking a larger part in the great events we put on like our Annual Ruck March.
Advice to Veterans Considering Involvement in Veteran Organizations
Whether it be the VFW, Chicago Veterans or any of our other great organizations, Emmer relates to hesitant veterans noting "it is difficult through the transition period. For any group, look at your interests and give something a try. If you're missing comradery then try one of these groups. It could be the Student Veterans at school! Even if you think you're transitioning fine, nothing is wrong with getting your toe in the water with the veteran community.' If you do nothing else, just check on each other – do your buddy checks!"
Chicago Veterans would like to thank Commander Emmer for her service, and looks forward to working closely together to support our shared veteran community!